Together PCS
Page Navigation
Grandmother-Grandson Duo Graduate Together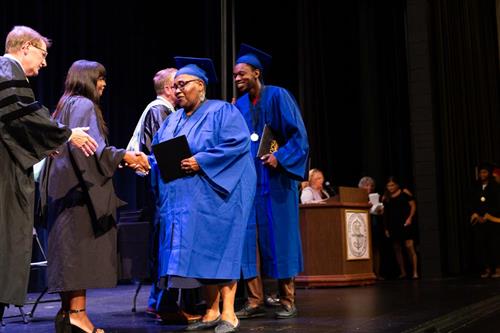 If there is anything Jaevon Ponds and his grandmother Portia can agree on, it's that math was the biggest hurdle to graduating high school.
But they overcame that hurdle together. The grandmother-grandson duo celebrated Aug. 31 by walking across the stage, one right after the other, capping off a years-long journey to obtaining their GED degrees.
"None of this was part of the plan," Portia Ponds said just before the All-County graduation ceremony, which took place at St. Petersburg High School, just two days shy of her 70th birthday. "We stayed in contact the whole time, but it was never in our minds that we would march at the same time."
Portia Ponds was just 16 when she dropped out of Dunedin High School after becoming pregnant with her daughter Loretta. Despite her parents urging her to return to school, Portia instead obtained a dietary management certification, which allowed her to "get a job, make some money and take care of her babies."
She went on to have a successful 35-year career in health care as a kitchen manager while raising three children, but not having her high school diploma always bothered her.
"All of my brothers and sisters graduated, all of my children graduated," Portia Ponds said. "As life went on, I really felt I was missing something, so my choice was, when I retired, I'm going to get my GED."
Jaevon Ponds attended Countryside High School for ninth and part of tenth grade and Northeast High for the second half of his sophomore year before opting to homeschool just before COVID. In 2020, he decided to start working toward his GED at Pinellas Technical College rather than returning to traditional high school.
"Of course, I wanted to graduate high school with all of my friends," said Jaevon Ponds, who began working on his computer programming degree at PTC in October. "But it's even more special that I get to graduate with my grandma."
The two said they would often send each other encouraging messages when finishing felt impossible. Testing days were especially tough. It took Portia Ponds three attempts to pass her English exam and Jaevon Ponds two times.
"Every day, I would send a text saying 'Grandma loves you. Hang in there,'" Portia Ponds said. "We feel so proud of ourselves."
The duo had quite a cheering section at the graduation ceremony, including Jaevon's mom, two brothers and other grandmother, and Portia's son, two daughters, sisters and grandson.
They feel blessed to have been able to inspire each other and, even more so, that other family members are so proud. Portia Ponds sent grandson Tristan Battle off to Tallahassee Community College a couple of weeks ago.
"He said, if you and Jaevon can do it, then I can go to college," Portia Ponds said. "It's been an amazing journey!"