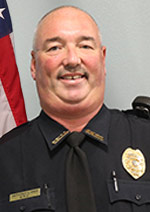 Born and raised in Northwest Illinois in an area called the Quad Cities. I graduated High School in 1980 and continued my education at Black Hawk Jr College as a member of the Basketball team. After graduating from Black Hawk I attended St Ambrose University graduating with a degree in Business Administration.
I accepted a position with the Silvis PD in 1987 and worked there until retiring in 2012 after 25 years. I then accepted a position at Black Hawk Jr College Public Safety as a campus police officer that lasted until 2017 when I retired and moved to Florida.
After several months of being idle I realized that I was not ready to retire and applied to become an SRO with the schools police and was offered a position in Jan 2020.
My wife Patricia and I have been married for 33 years and have 4 children and 10 grandchildren. As a hobby / vocation I have been a Football and Basketball Official at the high school and college level for the last 35 years.