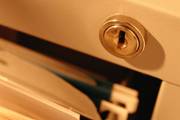 Central Records maintains the records of former Pinellas County public school students going back to the early 1900s, when Pinellas County split off from Hillsborough County. The records may be on microfilm, in hard copy, or in an electronic format, depending on their age.
As students move through the district, their records move with them. The elementary school records of a student promoted to middle school will follow that student to the higher level school. The records of a student who has attended elementary school, middle school, and high school in the district will be at the last school attended.
When a student leaves the district, the student records are transferred to Central Records. Normally middle school, high school, and exceptional student education center student records are transferred to Central Records after having been inactive for three school years. Inactive records from elementary schools remain in the schools for at least five years.
Former students who wish to request a transcript or other information from their student records should complete the
This form must be printed and then filled out. MAIL the form with your payment to the address on the form. We require a written signature on all requests for records. We cannot comply with emailed requests.
Mail the completed form to:
Pinellas County Schools
Central Records
2929 County Road 193
Clearwater, Florida 33759
Our normal turnaround time is seven working days after receipt of your request. If you have questions about the procedures for requesting copies of student records, contact Central Records.
Phone:
727-793-2701
, x 2500
Upon request, Central Records will release elementary or secondary (PK-12) education records to another elementary or secondary (PK-12) school in which a student or former student seeks to enroll or is already enrolled,
without
receipt of a signed release form, if the records are needed for the student's enrollment or transfer.
Contact us