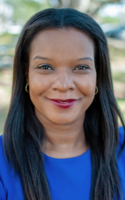 Caprice Edmond was elected to the school board in 2020. A lifelong resident of St. Petersburg, Mrs. Edmond is a proud graduate of Gibbs High School. She earned a Bachelor of Arts in Psychology, Master of Elementary Education with English for Speakers of Other Languages endorsement, Master of Educational Leadership, and Certification in Infant Family Mental Health from the University of South Florida, St. Petersburg. Mrs. Edmond served as a Guardian ad Litem for ten years.
As an educational leader and advocate for children and families, Mrs. Edmond is active in the community and serves in leadership roles on numerous committees and organizations. She has a significant and consistent history of advocacy for children and families on a local, state and national level through her work with unions and Parent Teacher Associations. As an instructional leader, she was a teacher and science coach in Pinellas County Schools, mainly in Title I and Transformation Zone Schools.
Since her election in 2020, Mrs. Edmond has earned Certified School Board Member status through Florida School Boards Association (FSBA) and currently serves as an officer on FSBA's Board of Directors and as the Vice Chair of FSBA's Equity Committee.
Email:
Caprice Edmond
This e-mail address is being protected from spambots. You need JavaScript enabled to view it