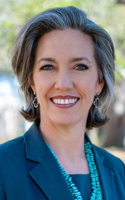 A native Floridian, Laura attended Florida's public schools for K-12, then studied aerospace engineering at the U.S. Naval Academy and served for six years as an officer in the Navy. She graduated from the Army Airborne school in Ft. Benning, Georgia; was one of the first two women integrating a U.S. warship; and at 23-years-old qualified Officer of the Deck (OOD) of a $1B warship. Her overseas deployments included executing two national taskings. Laura returned to Tampa and entered the building industry earning her General Contractors license and building 700,000sf, $115M with The Beck Group while also earning her MBA at the University of South Florida, St Petersburg. As an independent consultant, Laura served as the project director for the $65M development of Tom & Mary James' new museum and associated real estate, a full city block in downtown St Petersburg. Tom James, museum co-founder and chairman emeritus of Raymond James, asked Laura to consider a career change and become a museum director. In September of 2019, Laura became the executive director of The James Museum. Laura's husband, Hank Hine, is the executive director of The Dali Museum.
With young children, Laura & Hank became actively aware of the education choices surrounding their and other families. Recognizing the great disparity, they decided to get to know their neighborhood Title 1, (then) D-graded school. Laura founded the support group Friends of North Shore Elementary in 2015, then with her children attending the school, served as president of the school's PTA 2017-2019. During this time their team worked collaboratively to identify the keys to improving education and experience for teachers, students and families, then planned and implemented: extended learning days with enrichments; teacher professional development funds, classroom support and encouraging teacher requests and ideas; helped implement a teacher request for preschool; and communicated to the surrounding community that public education is strong, and matters, and increased Kindergarten enrollment year over year.
Laura has also worked at the district and state levels around balancing oversight with autonomy, educators as ideators, school safety, school grading, education funding, and served on the Healthy School Start Times task force, as well as, as citizen representative for architecture and construction manager selections. She was elected to the Pinellas County School Board in November 2020.
Laura believes that strong public education is vital to our communities, vital to our democracy, and that education can be and must be exceptional for all students.
Email:
Laura Hine
This e-mail address is being protected from spambots. You need JavaScript enabled to view it