Return to Headlines
Culinary Students Win Cash and Honors at Sonny's BBQ Competition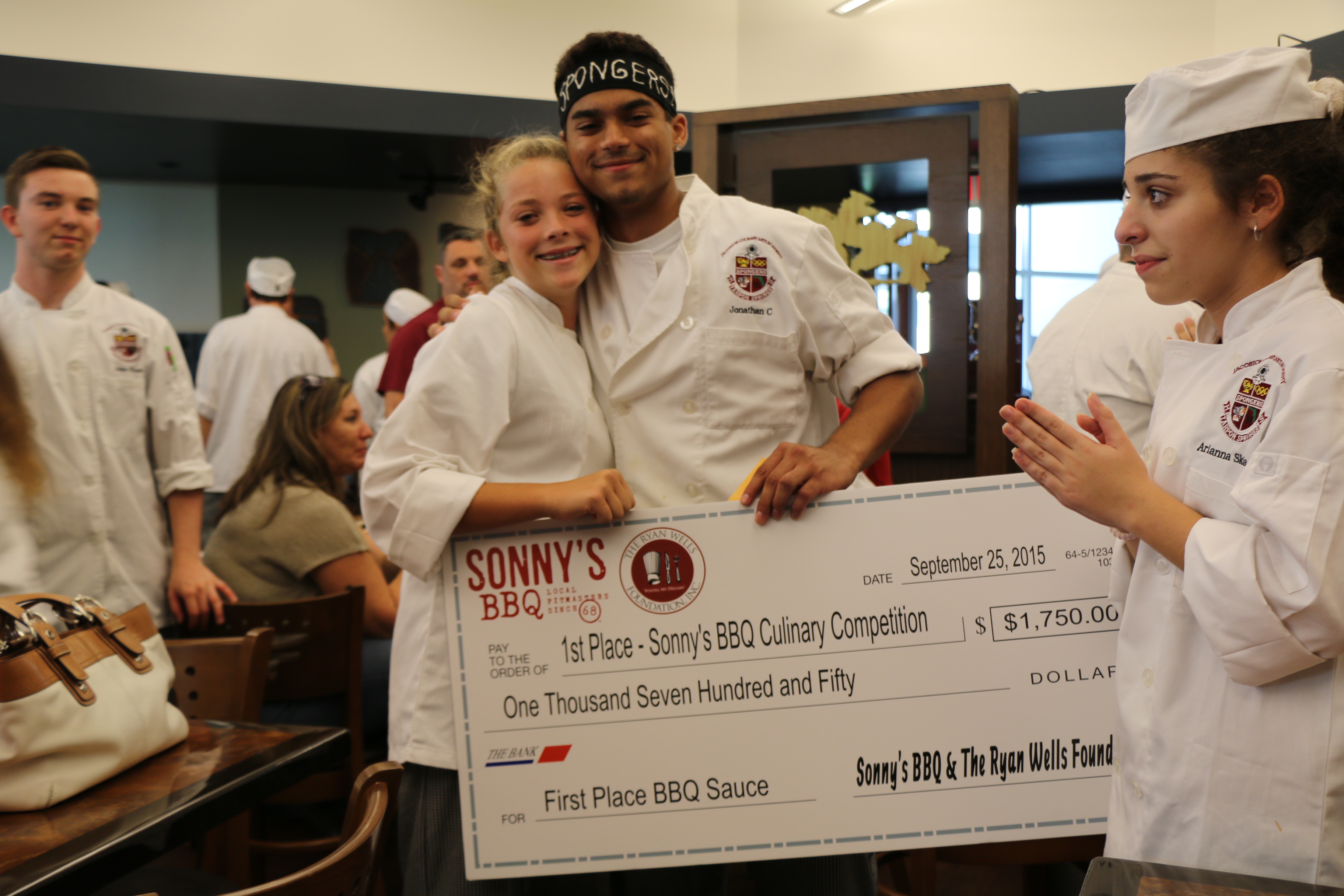 Students at the Jacobson Culinary Arts Academy at Tarpon Springs High School participated in a unique competition designed to create a brand new BBQ sauce for Sonny's BBQ Restaurants. Eighteen teams, comprised of three Jacobson Culinary Arts students each prepared their one of a kind BBQ recipes from scratch. The rules prohibited students from using garlic, onions or peanuts in their recipe in order to create a sauce for customers who may have certain dietary restrictions. The sauces were judged one at a time based on the taste, color, texture and aroma.
The winning teams included:
1st Place –Jonathan Conrad, Kaitlyn Farrar and Finn Haasl
2nd Place-Derek Warzen, Elizabeth Stone, Claire Ferrari
3rd Place-John Bookman, Bobby Karterouliotis, Emily Richo
4th Place-Atila Wright-Isguzar, Zach Thompson and Rain Test
The winning teams, in 1st to 4th place, received some $4,350 dollars worth of cash prizes donated by Sonny's. The company also donated all of the ingredients to prepare the sauce recipes and they are providing BBQ meals and refreshments for the participants. The judges included: the Pit Bosses from Sonny's BBQ, local area BBQ chefs, Mike Wells and Ashley Giasone from the Ryan Wells Foundation, former graduates of the Jacobson Culinary Arts Academy and members of the PCSB culinary staff.
Edward Titen, the franchisee owner of Sonny's Real Pit BBQ restaurants in Palm Harbor, New Port Richey and Largo, announced the winners and handed out thousands of dollars in cash prizes to the participants. According to Titen, the first and second place winning teams will receive additional money and will be invited to join Sonny's professional chefs to work on their new recipes for national competition. If the student sauces ultimately show promise, they may be included at a later date as a side sauce on a future Sonny's menu.
"We feel very honored to work with the kids and their families and all of staff here at the culinary school," said Titen who praised the participating students for their creativity in the kitchen and for their professionalism working together as part of a team.