Art Mobiles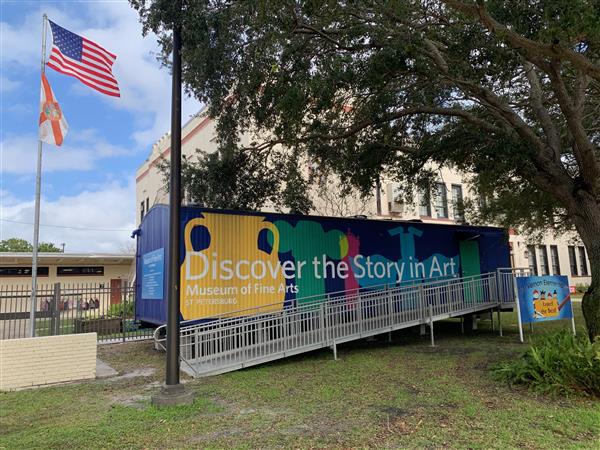 History of the PCS Art Mobile Program:


Since the early-2000s, the Visual Arts Department has partnered with local museums to create traveling mini-museums called "Art Mobiles". Over the span of three years, each portable mini-museum travels across the county visiting almost every Pinellas County public elementary school. Every K-5 student has the opportunity to visit the art mobile while it is stationed at their school, resulting in almost 14,000 students attending each year. While visiting, students encounter a museum-like experience tailored specifically to their grade level.

During this experience, students learn about the artists, the history and meaning of the artworks and get to have a up close interactive experience with the works. The Art Mobile program has made it possible for elementary students to experience the look and feel of an art museum without leaving their school grounds

Synopsis of the Museum of Fine Arts' "Discover the Story in Art" Mobile:

Every work of art has a story to tell, just like every person has a story to tell. When a 19th-century child jumps out of a painting at the Museum of Fine Arts, students are taken on an adventure from ancient times to modern day. Along the way, they will discover how to read works of art to explore their story and meaning. Kindergarten through 5th grade students will make connections between English Language, Social Studies, and Visual Arts standards.

Synopsis of Dali Museum's "Dali on the Fly" Art Mobile:

Grandpa and his nine-year-old granddaughter, Gala, two gadflies, tour The Dalí Museum after hours discussing the works of Salvador Dalí. Using live action with animation, this surreal educational documentary film about the art of Salvador Dalí, is designed to teach kindergarten through 5th grade art students about surrealism and how Dali's art was inspired by dreams, math and science. Grandpa, the Spanish gadfly tour-guide, knew Dalí well and was featured in Dali's paintings.