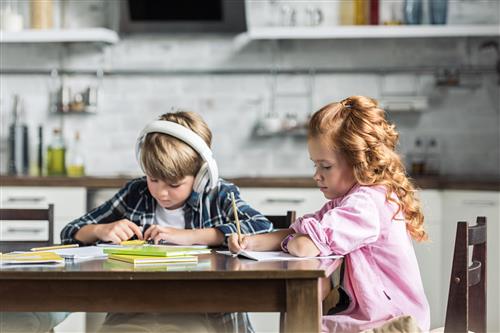 Parent Caregiver Toolkits
To help parents and caregivers support students with distance learning, the Statistics in Schools program has developed four toolkits that provide tips, best practices, and instruction on how to use and adapt our activities and resources for at-home use. Each toolkit describes two types of materials — Quick and Easy Resources and Activities — so parents and caregivers can easily choose those appropriate for their preschool, elementary, middle and high school children. The toolkits contain everything you need to get started, including a teaching guide, student worksheet, a list of materials, and an estimate of how long each lesson takes.
Bay News 9 Project Weather School
BN9 Project Weather School - During this difficult time Spectrum News wants to help children continue to learn in a fun way. We are launching Project Weather School to help children learn about weather directly from Spectrum News meteorologists. Every Wednesday at 1 p.m. we will share an interactive weather lesson from one of our weather experts right here. Project Weather School
Homeschool Hideout
Trying to juggle working from home and keeping the kids quiet? Whether you decide to homeschool forever or you can't wait until the schools open up again, this list has everything you need to keep you sane NOW! Have no fear-we've gathered up our very best resources for Coronavirus homeschoolers. Homeschool Hideout
The Spanish Experiment
Offers Spanish lessons and translates well known children's stories and has them read aloud by a native Spanish speaker; you can read along in either English or Spanish The Spanish Experiment
Learning Games
Check out Learning Games from Dictionary.com for a variety of Literacy activities, homework help, games and more!
Daily Routines
Need Help Building a Daily Routine? Get suggestions here!
You Tube Learning at Home
YouTube has a wealth of resources for families with children of all ages. These activities do not replace assignments from your student's teachers but are meant to complement that work. Check out the YouTube Learning at Home page!
Making Room for Literacy
From Puckett Institute- Making Room for Literacy: Watch as we show you ways for making a home rich in early literacy learning experiences. We'll show you how books, posters, magnet letters, alphabet toys, games, writing and art materials, food labels, mail and computers encourage early literacy learning. Literacy Info
Ready Rosie
The Ready Rosie Healthy at Home Toolkit resource provides access to bilingual content created in partnership with pediatricians and mental health experts on prevention and care, and activities that promote emotional well-being and learning at home. Ready Rosie
Back to Learning at Home Family Resources