Kindness 101
Steve Hartman is known for his segment on CBS, "On The Road," in which he travels around the country looking for stories of ordinary people stepping up for others in kind and compassionate ways. Kindness 101 — a virtual class by Steve focuses on topics like altruism, courage and empathy, featuring stories from his popular news cast.
Who's On Wednesday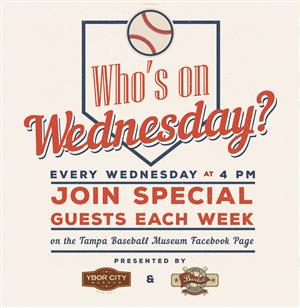 Chess Club
There's a new online club open to all Pinellas County families. It's a great place to meet other chess players and play in free tournaments. Just visit www.chess.com, sign up for a free membership, click on "Connect" & "Clubs," & search for "PCS Chess." PCS Chess has K-12 student tournaments the 1st Wednesday of each month at 3:40 pm and tournaments open to all Pinellas County residents the 3rd Thursday of each month at 7:00 pm. Do you want to learn the game of kings (and queens)? Try www.chesskids.com (scroll down to "New to Chess? Learn Now") or www.chess.com (choose Learn, then Lessons). If you have questions or need additional information, please contact G. E. Avlonitis at AVLONITISG@pcsb.org
The Spanish Experiment
Offers Spanish lessons and translates well known children's stories and has them read aloud by a native Spanish speaker; you can read along in either English or Spanish The Spanish Experiment
Bedtime Stories
PBS KIDS- presents "Mondays with Michelle Obama!" As part of the PBS KIDS Read-Along series, Michelle Obama will read four of her favorite children's books (one book every Monday through 5/11!) Stories with Michelle Obama
"GOODNIGHT WITH DOLLY" will feature Dolly Parton reading a series of Imagination Library books all carefully chosen for their appropriate content at this moment in time. Goodnight Stories
Kids in the Kitchen
Explore the world of cooking and baking at America's Test Kitchen- get free recipes, activities and experiments. America's Test Kitchen
Easy Lunches for Kids to Make at Home
Eatright.org offers ideas on how to get your kids involved with preparing family meals at home! What's For Dinner??
A well worded question is quickest way to connect after a long day. Get a deeper conversation started with these ideas for all ages. Conversations starters and more
Screen Free Activities
COVID-19 Time Capsule- the COVID-19 time capsule gives your child an opportunity to document what we're going through. They can write about how they are feeling, what's happening at home and in their communities. It's something to save and look back on at the role they played in this historic moment. History in the Making
Screen Free Activities for Kids
Take the 31 Day Lego Challenge
Programs, Audiobooks and Podcasts
Parent Trapped For kids, digital life is real life. It's where they build friendships, take a stand on issues, and do so much more. With research-backed resources covering a range of topics -- from online safety and cyberbullying to media balance and learning with technology -- you can easily find and share articles, videos, printable handouts, ready-made presentations, and more in your classroom, on your school's website or social feed, or at your next parent night.
Big Life Podcasts help kids develop a growth mindset Big Life Journal
Harry Potter at Home Hub; puzzles, quizzes and magical crafts. Stream the first Harry Potter book free from Audible Stories. Harry Potter At Home
Free audible books, no login or membership required Free Audible Books
Free podcast for family listening! This Podcast Has Fleas
Florida PBS stations are banding together to support at-home learning for students by delivering a new weekday television schedule of educational programs. These programs are aligned to state standards, and are free and accessible from home.
Back to Learning at Home Family Resources